TBPB 
Chemical Name:  Benzoic acid tert-butyl ester peroxide
CAS-No  614-45-9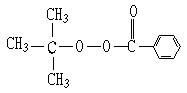 C11H14O3=194.23
 Introduction:
Enox®TBPBas low volatile, pale yellow transparent liquid, is a kind of esters, organic peroxides.Used as a polymerization (such as polystyrene, polyethylene, poly (acrylic acid) of medium temperature curing agent, initiator, unsaturated polyester and silicone rubber vulcanizing agent.
Safety data
Half-life data
Thermal decomposition temperature
60℃
Activation energy
33kcal/mole
Flash point
Open 65 ℃

Silent 19 ℃

10 hours Half-life temperature
105℃
SADT
63℃
1 hour half-life temperature
125℃
Tem
55℃
1 minute half-life temperature
167℃
UN-No
3103
CN-No
52076
Physical and chemical properties
main quality indicators
state
liquid
appearance
Pale yellow transparent oily liquid
proportion
1.043
Content
Min.98%
Refractive index
1.499
Chroma
Max. 100 hazen
Boiling point
124℃
Fe
Max.0.0003%
Melting point
8℃
Active oxygen content
8.24%
Solubility:
Soluble in alcohol, ester, ether, organic solvents.Does not dissolve in water.
Packaging and storage:
20 kg, 25 kg PE barrels packaging10 ~ 30 ℃ storage in a cool ventilated place.
For the customer the demand is higher chroma, should be stored under 10 ~ 15 ℃.